Do you Have a Hoarding Problem?
Most American homes have fallen victim to clutter. Whether you have kids, pets, an at home business, or a busy life, clutter can accumulate over time. For many having a cluttered home is embarrassing and can been seen as messy and disorganized, which does not reflect well on the homeowner. While clutter can be cleaned up and organized fairly quickly, for those that have a compulsive disorder in which they hoard items, the cleanup can be a more dramatic and intense undertaking.
Symptoms of Hoarding
Some symptoms may include:
Difficulty throwing things away
Purchasing many of the same item
Excessive spending outside of means on unneeded items
Addiction to purchasing items online or through a television shopping channel
Stacks and/or piles of items that inhibit movement in the home or impede safety
Limits social interaction, may be described as a hermit
Gets defensive when discussing items in the home or the need to clean/organize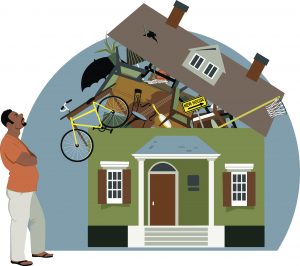 It is important to note that not everyone that displays any or all these symptoms is considered a hoarder.
Emotional Response
What sets a hoarder apart from another individual that may display some of the symptoms mentioned is the emotional response present in regards to the items being hoarded or the thought or suggestion of getting rid of the items. For hoarders there is anxiety and fear behind the idea of removing the items from the home. The items themselves serve as a safety net of sorts and those that accumulate the items may feel protected by it. It is also a way for the hoarder to isolate themselves from the outside world. Oftentimes hoarders are reclusive and feel uncomfortable leaving the house or letting anyone inside of the house. There are feelings of shame and embarrassment attached to their behaviors, but also an inability to correct the behavior based on the fear of reprisal for doing so.
Hoarding Cleanup
Hoarding cleanup can be an overwhelming situation and should be treated with care. Specialists can work with the hoarder, family, and friends to make sure extra care is taken to protect any items of sentimental value and to respect the person's home.
Cleanup may include:
Biohazard disposal
Document recovery
Packing items
Transporting items
Storing items
Disposing of large items, such as appliances
Donating items to charity
Recycling
Deep cleaning
Service Master of Greater Pittsburgh has clutter cleaning specialists that can assist with cleanup and are experts in treating our client's with compassion and care. We know that this can be an emotional experience and will work to respect the client's needs and wishes during this delicate process. If you would like more information or a quote on services, contact Service Master today.