Service Master is the Right Contractor for You!
When your home is destroyed after a disaster it may be challenging to decide who to turn to for expert advice and professional service. There are many companies that make big claims, but can they deliver? How should you choose a contractor to restore your home?
Hire a Reputable Company
When choosing a company to restore your home, you want a company that you can trust. Hiring a reputable company is important. Service Master has been in business for over fifty years and has a reputation for excellent service. Service Master is part of a large family of brands that has more than 4500 franchises around the world. Service Master focuses on the customer experience so that you can feel confident from start to finish that your work will be done as stated and with care. Restoring your home after a disaster can be a large and stressful undertaking. Given that, when you work with a company that you can trust, it will ease the burden and allow you to feel as though your home is in good hands.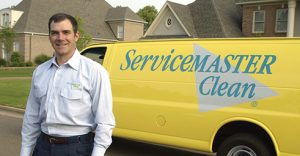 Hire a Company with Experience
Service Master's experts have a wide range of experience. This includes experience in the restoration process. Cleaning companies and outside contractors may not have the experience regarding the delicate undertaking of restoration. You need a company that is aware of all of the possible damage that may have occurred in your home, especially damage that may not be seen with the naked eye. Experienced restoration contractors are aware of areas that may be susceptible to mold or mildew growth. They also are trained to remove the remnants of smoke damage, such as stains on walls and residual odor. Hiring a company that has been around for many years allows you as a consumer to read reviews and get a better insight as to how the company operates.
What to Watch Out For
If you hire a reputable company with experience, such as Service Master you can rest assured that you will be in good hands. While you may get many solicitations from various contractors that have observed damage to your home, it is important to do your homework first before contracting the work. Unfortunately there are many companies that promise great service and a quick turnaround time, but don't deliver. They may attempt to give you a very low estimate and an expedited timeline just to earn your business. Beware if what you are being "sold" sounds too good to be true, as oftentimes it is. This happens frequently when a company lacks in experience and expertise in restoration work. Due to their lack of experience the company isn't able to accurately estimate the cost of the restoration process.
Looking for the right restoration company can be difficult, let Service Master be your choice for a restoration contractor in the Pittsburgh area.