Water Leak?
A hidden water leak in your home can be a scary and expensive situation. Although the water leak may be hidden, there are often signs that can alert you to a potential problem. Catching a water leak as soon as possible can save you money and possibly prevent greater damage to your home.
Hidden Leaks – Sources
There are several possible sources of hidden water leaks both inside and outside of your home.
Sources may include: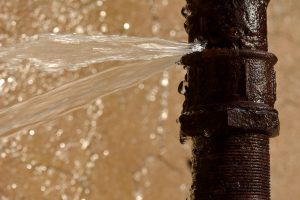 Busted pipes
Cracked foundation
Loose seals
Leaking spigot
Drain backup
If not treated in a timely manner, water leaks can continue to cause more damage and be costly to you as a homeowner. Oftentimes homeowners may suspect a problem, but not have any noticeable visible signs to confirm the suspicion. The best bet if you have had issues with backed up drains or toilets is to have a certified professional access and repair the situation. Do-it-yourself fixes may not only be temporary, but in some cases cause more damage in the long run.
Hidden Leaks – Signs
Mold and mildew can result from hidden water leaks in your home and cause havoc on your respiratory tract. If you have been suffering from symptoms of allergies such as sneezing, coughing and trouble breathing, this could be a sign that mold is present in your home. You can have your home tested for mold by a professional if you suspect that mold is the underlying cause.
Warped floors, blistering paint, and stains on your ceilings can also be signs of water infiltration. If you see any of these signs that commonly occur due to excess humidity and water, then seek a professional to investigate and inspect the potential cause.
Hidden Leaks – Damage
The resulting damage from a hidden water leak most often includes more than just correcting the source of the problem. Once a leak is determined the associated damage also has to be determined. Common damage that needs to be taken into account is possible mold and mildew infiltrating your home, replacement of drywall, insulation, duct work, carpet or wood flooring.
Hidden Leaks – Restoration
If your home has been damaged due to a hidden water leak, you will want to find a company that is able to cleanup and restore your home quickly and effectively.
Restoration may include:
Mold and mildew cleanup
Drying and dehumidifying
Repairing damage
Replacing flooring and/or drywall
Preventative waterproofing
Depending on the level of water damage, the restoration and repair services needed may differ. When restoring your home experts will work diligently to access whether replacement or repair is the best option. If your water leak was caught early, there may be less damage to repair. But the longer your home was exposed to the water the more likely it was to absorb and cause the need to replace certain items in lieu of repair. This is why as a homeowner it is important to investigate potential concerns and not ignore them for fear of costly repairs. Remember, the longer you wait the more likely the cost of repairs will skyrocket.
Service Master of Pittsburgh offers water damage repair services, including restoration and cleanup. Contact Service Master today to restore your home in no time.